Build as solar module - easily comparable to energy yield and system performance of PV systems
Optional cell temperature as alternative to directly measured module temperature
Output signal:  0 ... 10 V for irradiance and cell temperature
Silicon irradiance sensors show a cost-effective, but rugged and reliable solution for irradiance measurement. Based on the construction of the sensor element corresponding to a PV module they are ideal as reference for monitoring of PV systems. Especially the spectral response comparable to PV modules as well as the similar inclination error (incident angle modifier) allow an exact analysis of PV energy yields using Si sensor data.
Sensor
Si-V-10TC
Si-V-10-TC-T
Ordner No.
S68120
S68261
Solar cell
Monocrystalline silicon (50 x 33 mm)
Measurement uncertainty
Irradiance

± 5 W/m² ±2.5% of reading
valid for temperature compensation, spectrum AM 1.5 and vertical light beam
Measurement uncertainty
Internal temp. measurement
 
1.0 K @ -35 ... 70 °C
1.1 K @ -35 ... 80 °C
Response time (99%)
0.15 s
Offset
2 W/m²
Non-Linearity
0.10 %
Temperature dependance
0.40 % @ -35 ... 80 °C
Power supply
24 VDC (12 ... 28 VDC)
typ. < 1 mA power consumption
24 VDC (12 ... 28 VDC)
typ. < 2 mA power consumption
Load impedance
min. 100 kΩ
Output signal irradiance
0 ... 10 V @ 0 ... 1500 W/m²
Output signal cell temperature
 
0 ... 10 V @ -40 ... 90 °C
Sensor connection

LiYC11Y 4 x 0.14 mm² UL20233; length typical 3 m,
UV- and temperature resistant

Operating temperature
-35 … +80 °C
Housing material
Powder-coated aluminium, IP 65
Dimensions / Weight
155 x 85 x 39 mm  /  approx. 350 g
Manufacturer
Ingenieurbüro Mencke & Tegtmeyer GmbH
Si-V-10TC (S68120) 
Sensor
Plug PIN No.
Wire Colour Sensor Cable
Meteo-40 Analog Voltage
Solar irradiance
1
orange
Ax
Solar irradiance
Ground / Ref.*
 
 
Bx
(Main Ground)
Ground / Ref.
2
black
Main Ground
Supply
3
red
12 ... 28 VDC
*Minus signals are identical to Ground
Cable type: LiYC11Y 4 x 0.14 mm² (cable length: 3m)
Connect the shield logger-sided to Ground (GND)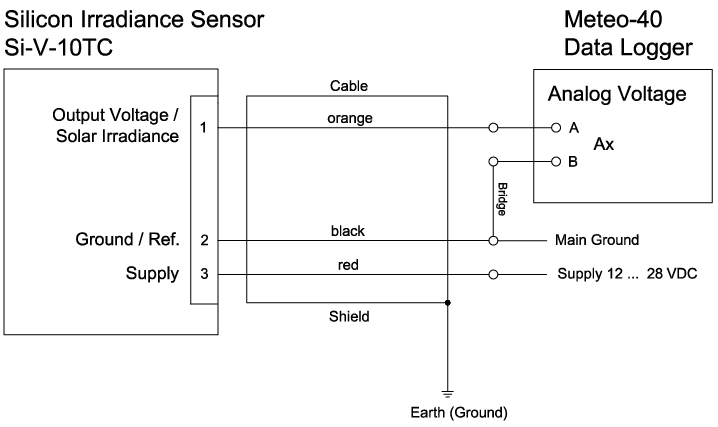 Si-V-10TC-T (S68261)
Sensor
Plug PIN No.
Wire Colour Sensor Cable
Meteo-40 Analog Voltage
Temperature
1
brown
Ax
Temperature
Ground / Ref.*
 
 
Bx
(Main Ground)
Solar irradiance
2
orange
Ax+1
Solar irradiance
Ground / Ref.*
 
 
Bx+1
(Main Ground)
Ground / Ref.
4
black
Main Ground
Supply
3
red
12 ... 28 VDC
*Minus signals are identical to Ground
Cable type: LiYC11Y 4 x 0.14 mm² (cable length: 3m)
Connect the shield logger-sided to Ground (GND)