The Solar Monitoring Station EKO MS-90+ combines the DNI Sensor EKO MS-90 and the pyranometer EKO MS-80S for DNI, GHI and DHI data. These two sensors are connected via EKO C-Box Modbus Processing interface with a GPS receiver and a processing unit.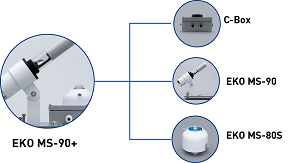 The Solar Monitoring Station measures DNI and GHI and calculates the Diffuse irradiance (DHI) from the measurement data and the position of the sun. This gives you the same output parameters as a sun tracker, but at a much lower price and in a robust, solid-state solution with lower power consumption.
The station provides a digital output signal (RS-485 Modbus RTU) and can be easily connected to various data acquisition systems in solar energy projects and meteorological stations (dataloggers, inverters, SCADA etc). It can also be connected to a PC.
Would you like to order your Solar Monitoring Station EKO MS-90+? Please just contact us: sales@ammonit.com.