Mobile measurement for a wide range of applications
The MeteoLaser LiDAR accurately measures horizontal and vertical wind speeds and directions up to 300 meters. It measures humidity and pressure weather parameters through the PTH sensor module.
The MeteoLaser LiDAR can be used in wind resource assessment in the early stages of a wind project development, in micro-siting of wind farms, power performance of wind turbine, continuous wind measurement, offshore wind measurement systems and many other places where mobile wind measurements are required.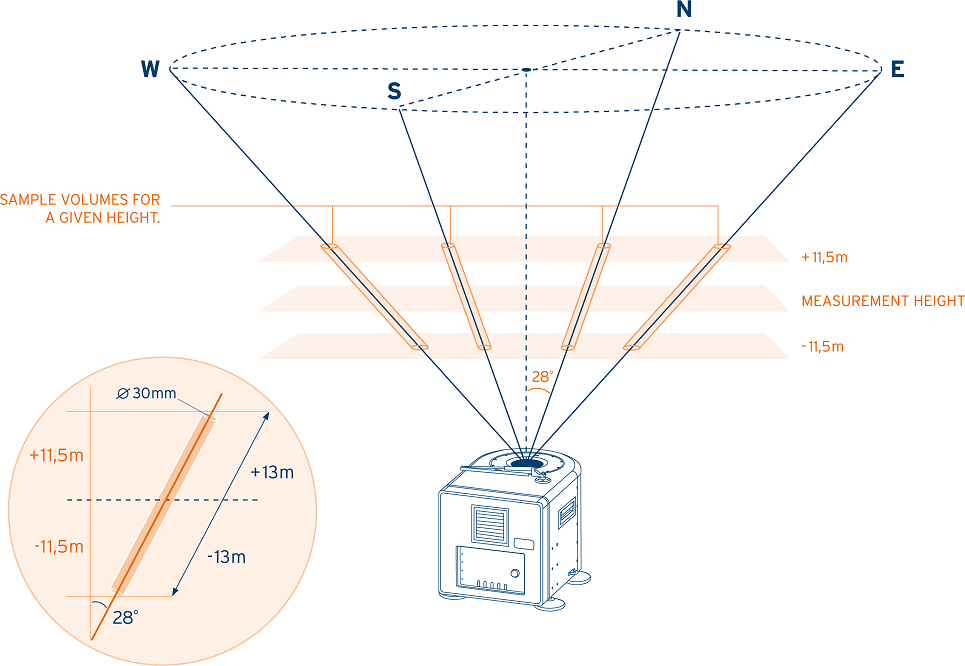 | | |
| --- | --- |
| Size |  Length x width x height |
| without packaging | 645 x 550 x 505 mm |
| with packaging  | 760 x 630 x 700 mm |
| Weight     |   |
| without packaging |  45 kg |
| with packaging | 76 kg |
Type of LiDAR
Pulsed Doppler LiDAR
Number of laser beams
4 laser beams (N, E, S, W)
Angle of laser beam
28° to vertical
Measurement range
40 to 300 m
Measurement heights
12 heights
Measurement cycle duration
~0,8 s per beam,
~3,2 s for 4 beams
Accuracy horizontal wind speed
0.1 m/s *
Wind speed range
0 to 80 m/s
Accuracy wind direction
1° *
Power supply requirements
18 to 32 V DC /
93 to 263 V AC (50-60 Hz)
Operating temperature range
-40° C to 60° C
Humidity range
-0 % to 100 % RH
(non-sourced)
Protection level
IP 54 (external system),
IP 67 (internal unit)
Safety standards
Class 1M IEC/EN 60825-1
Hardware interface
4G-Router, Ethernet,
Laptop connection, USB for
GPS-tracking
Data format (compressed)
10 minutes files CSV files
1 second data CSV files
User interface for remote access
AmmonitConnect
(SSH reverse Tunnel)
Data transfer protocols
Emails, FTP and SCP,
SFTP from AmmonitOR
Data cloud
AmmonitOR Datacloud
Classification IEC 61400-12-1
Available in January 2022
IEC verification
Available on option
Factory report against
golden LiDAR
Delivered with Factory
report (included)
with 1 wind speed bin
*depending on environmental conditions, see classification report