Opto-electronic wind speed transmitter
Classified according to IEC standard
"Low Power", high frequency output signal
Range 0.2 ... 75 m/s
Resolution < 0.5 m/s
Low power, pulse output only
Consumes 1 mA while operating from the logger's battery supply.
Measurement principle
The low-inertia 3-cup rotor is set into rotation by the wind. The wheel is scanned optoelectronically and the measuring value is available at the output as a digital signal.
Characteristics

Measurement range
0 ... 75 m/s
Accuracy
± 0.2 m/s (<10 m/s); ± 2% of reading (> 10m/s)
Resolution
0.05 m/s
Non-Linearity
0.4 % full-range output frequency (correction curve supplied)
Starting wind speed
0.2 m/s
Survival wind speed
max. 75 m/s
Distance constant
2.3 m ± 10 %
Ambient temperature
-30 ... +70 °C
Transducer
Interruption of optical beam

Operating supply

4.75 ... 28 VDC (max 1.3 mA, average is typically less than 1 mA)

Electrical output

0 ... 750 Hz
Termination
cable length 3 m
Materials
Anodized aluminium, weather-resisting plastics
Weight Anemometer
0.5 kg (Gross weight for shipping: 1 kg)
Recalibration
recommended interval every 24 months
Manufacturer
Vector Instruments / UK (A100LM)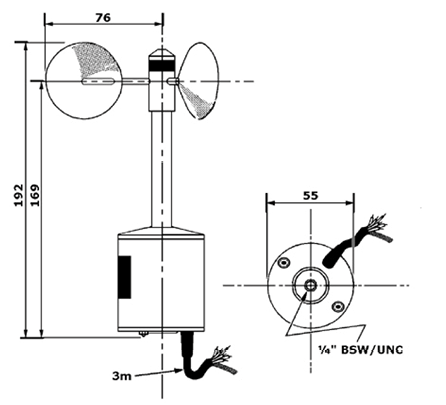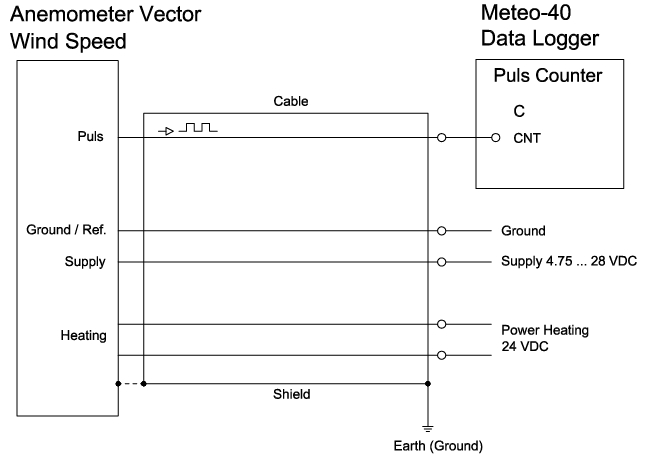 Sensor
Manufacturer
Wire Color
Ammonit Cable
Wire Color*
Meteo-40
Counter
Supply
Sensor
Wind speed Pulse output
white
white
CNT
 
Supply
red
red
 
4.75 ... 28 VDC, 1 mA typ.
Ground
blue, yellow
black
 
GND
Heating
brown
orange, orange
 
24 V / 6 W, 250 mA
Heating
violet
violet, violet
 
* with Junction box
Cable type
without heating wires:    LiY(C)Y 3 x 0.25 mm2
with heating wires:     LiY(C)Y 7 x 0.25 mm2